Message from the CEO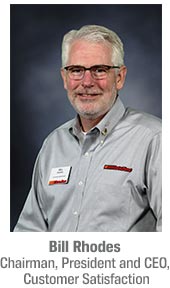 An AutoZoner Always…Embraces Diversity and Cares About People. These are two of our company's Values, and they are a vital part of our strong culture. We welcome each individual's heritage, differences, unique qualities and experiences and we treat all people with dignity and respect.
I am so proud of the contributions made by our AutoZoners in the United States, Mexico, Brazil, Germany and China to drive our company's success and deliver Trustworthy Advice and WOW! Customer Service. Whether they work in one of our stores, call on Commercial customers, work in our distribution centers, the Store Support Center or in our other businesses including ALLDATA, IMC and AutoAnything, AutoZoners everywhere LIVE our Pledge:
AutoZoners always put customers first!
We know our parts and products.
Our stores look great!
We've got the best merchandise at the right price.

Thank you for taking the time to learn about our company. I truly believe that every day is a great day to be an AutoZoner!"
An AutoZoner Always...Embraces Diversity
For decades, AutoZone's neighborhood stores and AutoZoners have reflected the customers whom we serve. As an international brand we are determined to embrace diversity in every aspect, celebrating each individual's heritage, differences, and unique qualities. Being an AutoZoner is about serving customers and supporting each other. Whether you are just starting your career or have been with the company many years, we are all part of the AutoZone story and our company's incredible future.
---
AutoZone Business Resource Groups
AutoZone's Business Resource Groups (BRGs) demonstrate our commitment to embracing diversity and supporting our AutoZoners. Our BRGs consist of AutoZoners who share common interests or backgrounds and have a mission to contribute their voices, time, and talent to helping AutoZoners succeed in their careers.
BRG events and activities are open to all AutoZoners and help raise awareness and provide networking and career development opportunities.
| | The AutoZone Women's Initiative, or AZ WIN, was created to strengthen women's engagement and develop future women leaders by facilitating networking events and creating ongoing leadership and learning opportunities. |
| --- | --- |
| AZ NEXTGEN brings together inspired young professionals between the ages of 21-40 and provides them opportunities to connect, develop leadership skills, and introduce innovative thinking and practices to AutoZone. | |
| --- | --- |
---
Career Pathways: Training & Career Development
At AutoZone, we are committed to the growth and career development of our AutoZoners. We demonstrate this commitment by providing:
Training (formal classroom, self-paced online, or on-the-job)
Tuition Assistance
Performance Feedback and Coaching
Individual Development Plans
We encourage AutoZoners to take advantage of the tools and resources they need to develop, learn and grow with AutoZone each and every day. Below is just one of many AutoZoner Success Stories that demonstrate the diverse career paths and growth potential at AutoZone.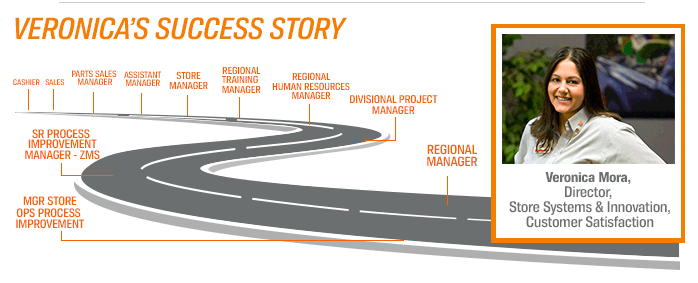 "AutoZone has given me the opportunity to develop professionally by challenging me to take on projects that are outside of my comfort zone. In each position I was given tasks and projects that prepared me for the next position and ensured that I was ready for that next step."
---
AutoZoners with Abilities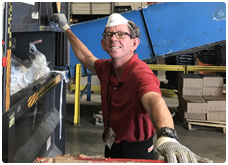 AutoZone is committed to inclusion in the workforce and welcomes people of all abilities. One way we demonstrate this commitment is through our "People With Abilities" program where we partner with various agencies throughout the country to recruit and hire people to work in our Distribution Centers.
In 2015, AutoZone's Memphis Fulfillment Center received the "Employer Award" from the National Association of People Supporting Employment First for our employment of people with disabilities. We invite you to visit our Careers page to learn more about opportunities at AutoZone.
---
Military

AutoZone values the skills, leadership, strength and dedication of service members and veterans, and we are committed to their lifelong success at AutoZone. We proudly hire thousands of service members and veterans each year! With operations in all fifty states, the District of Columbia, Puerto Rico, Mexico, and Brazil, we encourage military and veterans to visit our Careers page and apply to be a part of our industry-leading team!